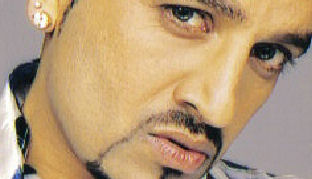 '...this is probably the most important music album of my career'

Jaswinder Singh Bains, a/k/a Jazzy B, returns to the music scene with his sixth album Stayin' Real. Any artist who's tasted success knows the burden of fame's expectation. His pugnacious vocal delivery and the ease and pronunciation of the most desi of consonants proves that Jazzy B has that special something.

It would be easy to dismiss Jazzy's evocatively titled Stayin' Real as another piece of Bhangra normality, but this album is sure to take hold of your musical senses with a firm grip. Musically, this is one of Sukshinder Shinda's strongest productions and you tend to forget that he is the man behind the switches - the vibe is so far fetched compared to his trademark sound of the past decade. Stayin' Real lets Jazzy B roam into a new world as he experiments with a host of musical ranges and vocals.

Husna Di Sarkar, is the kind of track that can make an album, playing a disarming synth-bass hook over a solid Drum 'n' Bass beat. This is the type of song that comes ready mixed and can go straight from the record bag to the turntable without any added influences.

Akhian Da Mail complements the fantastic start with a hip-swaying melody capturing Jazzy's teasing lyrics to entice his female friend to his trusted heart. Mirza is portrayed with panache and poise as Jazzy delivers against a differing musical backdrop intermixing the traditional elements of Bhangra and the synth sound of the studio.

The changing moods and yet-pulsating alterations of the Boliyaan, the sexy sound of Jinde and the driving dhol beat of Bhangre finds Jazzy bringing his vocals to the fore. Dil Hai Mera Deewana lends his voice to the Hindi arena for the very first time as he introduces himself to a broader audience with this Hindi/Punjabi fusion.

Hi Hi Jawaani Nee borrows some heavy techno-piano hooks and levels off into a glorious finale for the album. Finally, Gabbharua teams Jazzy with some entertaining backing vocals, which ebb and flow against the rhythmic sound and Bhangra-Pop initiations.

Stayin' Real has proved to be re-launch for Jazzy B's worldwide career.