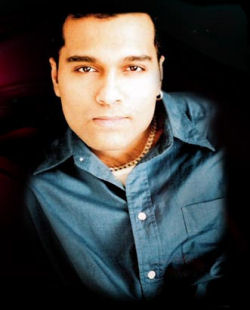 Toronto's Original DJ-Jiten is considered to be one of the pioneers of the South Asian DJ scene in North America. He started out in 1990 in his hometown of Toronto, Canada, where he deejayed his first event. Believe it or not, back then the concept of playing Indian music at parties was non-existent. What he did that night on the turntables spawned a career for him and many others soon after. He mixed Indian music with urban beats! It is quite common these days, but back then it was something completely new and exciting. It was the birth of a new scene, with Jiten right in the middle of it.

After that historic night, which many people from the Toronto area still talk about- the infamous "Qurbani/Break for Love", and "O Saathi Re/Back to Life" mixes- Jiten hit the studio, recorded his remixes and put them in some local shops. Within a year or so, he started getting phone calls from New York and LA asking for his CD's. He could not keep up with the demand! At this time Jiten was busy playing the Toronto party scene, when he started getting calls from promoters from all over the USA. It was a great time to be a DJ!

Since that time DJ-Jiten has released over 20 CD's, and toured almost every major city in North America 10 times over, including New York, LA, Chicago, Miami, Houston- the list goes onů Early in 1999, his travels took him to India to record vocals for his album BMW2000, using only the top name singers in Bollywood. The album was a huge success and quickly catapulted him to the top of the charts in UK and worldwide. In India, the album was picked up by Magnasound for distribution, and his video for "Pyar Zindagi Hai" was in heavy rotation on ZeeTV, B4U, and MTV India. He followed that album up with BMW2001, with the video of "In Aankhon ki Masti" getting excellent rotation as well.

In October of 2003, DJ-Jiten released another blockbuster - BMW - the Bollywood Connection. It was a project done jointly with Tips Music India and Kiss Records from the UK. He was sent original master recordings from the Tips vault to current film songs, and he added his magic touch. The album made the bestseller chart in days! More importantly, it hit #1 on BBC Asian network charts for more than 8 weeks straight!

Working in the studio and making music is definitely one of DJ-Jiten's forte's, but his heart lies in performing live. His ability to read a crowd and ignite a party is what has kept his name as strong as ever in the scene- and it gets him respect from many other top DJ's in and out of the South Asian circuit. In 2001, he was nominated and won the award for BEST DJ at the MyBindi.com Awards. That was about 12 years after he played live for the 1st time! Not bad. Incidentally, he won the award for BEST DJ a second time in November of 2003.

If you are having an event and would like for DJ-Jiten to perform, fill out the reservation form and somebody will get back to you!